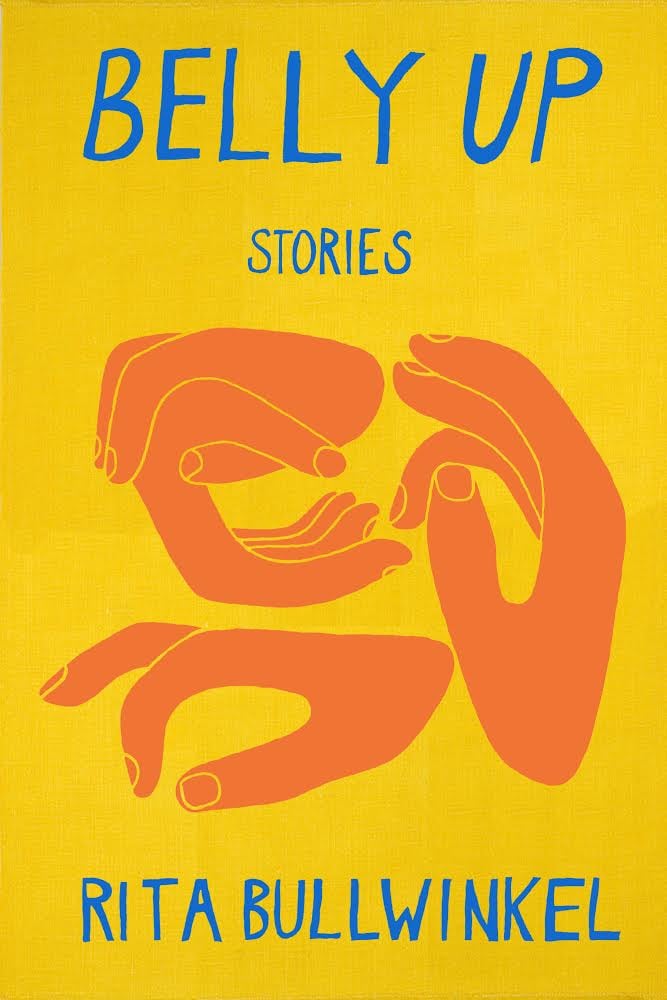 Publication date: May 8, 2018.
BELLY UP is a story collection that contains ghosts, mediums, a lover obsessed with the sound of harps tuning, teenage girls who believe they are actually plants, gulag prisoners who outsmart a terrible warden, and carnivorous churches. Throughout these grotesque and tender stories, characters question the bodies they've been given and what their bodies require to be sustained.
PRAISE FOR BELLY UP
"These stunning stories take place in the spaces between ordinary objects and events. They are mysterious, strange, and fearlessly funny in their expression of human isolation, and they contain the existential surprises of great literature. Belly Up is a powerful debut by an unusually gifted writer." —Lorrie Moore
"At the intersection of the surreal and the real, Rita Bullwinkel has carved out a unique space in which the mundane and the strange cohabitate and sometimes frolic. The sharp, precise writing and careful observations of the human condition in her excellent first collection Belly Up signal the debut of a major new talent." —Jeff VanderMeer
"Bullwinkel's delightful, passionate stories of disturbance and worried words have the best kind of frenetic energy." —Deb Olin Unferth
ABOUT THE AUTHOR
Rita Bullwinkel's writing has been published in Tin House, Conjunctions, Vice, NOON, and Guernica. She is a recipient of grants and fellowships from the MacDowell Colony, Brown University, Vanderbilt University, Hawthornden Castle, and the Helene Wurlitzer Foundation. Both her fiction and her translation have been nominated for Pushcart Prizes. She is an Editor at Large for McSweeney's. She lives in San Francisco. This is her first book.
BOOK EVENTS
San Francisco on May 8—7pm at City Lights Bookstore with author and illustrator Lisa Brown
Brooklyn on May 11—7:30 pm at Books Are Magic with author Alice Sola Kim
Providence on May 12—6 pm at Ada Books with author Joanna Howard
Cambridge, MA on May 13—3 pm at The Harvard Square Coop with Laura van den Berg
New Orleans, LA on May 16—6 pm at Octavia Books with Maurice Ruffin
Austin on May 17—7 pm at BookPeople with author Deb Olin Unferth
Chicago on May 18—7:30 pm at Women and Children First with authors Jac Jemc and Anne Yoder
Los Angeles on May 24—7:30 pm at Skylight Books with authors Amina Cain and Liz Ziemska
San Diego, CA on May 25—7 pm at The Book Catapult with Lily Hoang
Oakland, CA on June 13—7 pm at Wolfman Books with Vi Khi Nao and Jennifer Cheng
Seattle, WA on June 29—7 pm at Third Place Books, Ravenna location
Portland, OR on July 2—7:30 pm at Powell's Bookstore